Sunset Place Crime Victim Lawyer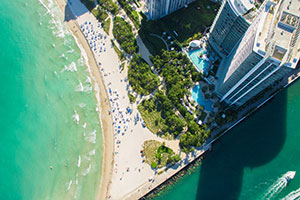 Were you injured in a criminal attack in Sunset Place? You should know that you are not alone. Folks who go to Sunset Place never think that they may end up injured in hospital after their visit there. But criminals count on you letting your guard down. They also factor in lax or inadequate security plans. If the security doesn't pay attention either, they have a wide-open opportunity to harass, rob or hurt the guests.
Sometimes, there is no one to blame for a crime other than the criminal. But in other situations, the crime was foreseeable and therefore potentially preventable. To determine who, other than the criminal, might bear some responsibility for injuries or deaths arising out of crimes at Sunset Place, you can call our Sunset Place crime victim lawyer at the Gerson & Schwartz law firm in Miami for help.
Our Shops at Sunset Place crime victim lawyers will answer all your questions for free at (305) 371-6000. We will spend the time to listen to you and learn what happened to you at Sunset Place. Our Miami injury attorneys serving victims of crime at Sunset Place will discuss your options in your quest for fair compensation. If you have a viable case, we can lay out an action plan to help you get the justice and compensation that you deserve.
Sunset Place
Sunset Place is the commonly referred name of The Shops at Sunset Place, a large outdoor shopping complex in Miami. It is located near the intersection between South Dixie Highway and the Red Road. Visitors can arrive there by the Miami Metrorail, driving, Uber, Lyft or cab. South Miami Metrorail is the closest station to the Shops at Sunset Place.
From the plenty of shopping and entertainment options in Sunset Place, the AMC Entertainment Cinema is the largest tenant. Other entertainment locations include the only Miami GameTime entertainment center, Splitsville Luxury Lanes, and Diner Lounge bowling alleys. Typically, Sunset Place enjoys large crowds of locals and tourists in the evenings, weekends and especially during the holidays.
Our crime victim attorneys serve clients seriously injured at Sunset Place Shops and common areas. Our crime victim lawyers can help clients injured due to crime including:
Aggravated Battery at Sunset Place
Shootings at Sunset Place
Wrongful Death
Rape and Sexual Assault
Bar Fights and Assaults
Excessive use of force by bouncers
Armed Robbery
Bodily Injury Claims for Inadequate or Negligent Security
Brain Injuries
Stabbings
Other types of serious and life threating injuries
Sunset Place Crime Victim Compensation Options
People injured in crime attacks in Sunset Place should know that the mall and the stores have the duty to provide them with a reasonably safe environment for shopping, dining, and entertainment. Florida law requires the Sunset Place to take all the necessary measure to prevent any foreseeable crimes at their premises. In all too many cases inadequate or negligent security plans lead to a breach of that duty. When that happens, Sunset Place and potentially some of its tenants may be responsible for your injury-related expenses and losses.
You can also claim damages against the criminal offender, but don't expect compensation from them anytime soon. If they are caught at all, it will take a long time until conviction. Even when they are convicted, they usually never have the money to pay for all of the damages they caused by their criminal actions.
There is one more option, too. It leads to the Florida Bureau for Victim Compensation, which is a governmental agency that compensates the crime victims in Florida for the economic losses incurred from crimes in Florida. There are some legally set requirements that your case must meet to qualify for compensation. But once you comply with those, you may be in line to receive compensation for some of your medical bills and lost wages. But this option will never lead to full and fair compensation for all of your damages following injuries or deaths at Sunset Place.
Sunset Place Crime Victim Lawyers
Gerson & Schwartz Law firm has worked for injury victims and wrongful death survivors from Miami for the last 48 plus years. We have worked tirelessly for victims of crime in Miami Dade, Broward, and other areas of South Florida and helped them get the compensation and justice that they deserved. Our Sunset Place crime victim attorneys are here to help you too. We can start by no-obligation and free of charge consultations at (305) 371-6000. Tell us about your case, and we will let you know about your chances to get compensated and what's the best way to do it. We won't ask for fees unless we recover for you.