Sunny Isles Beach Motorcycle Accident Lawyer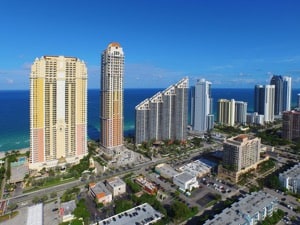 As an island community in Miami-Dade County, the City of Sunny Isles Beach is home to many motorcycle enthusiasts. Unfortunately, because the motorcycle riders share roads with other traffic, our lawyers handle many Sunny Isles Beach motorcycle accidents. Gerson & Schwartz P.A. is routinely called to represent motorcycle accident victims who are residents of the island or were visiting.
If you decide to hire our Sunny Isles Beach motorcycle accident lawyers, we swiftly investigate the crash. We understand the important of seeking out evidence as soon as possible, to ensure nothing important is lost or degraded by time or carelessness. We analyze this evidence carefully to build a strong argument in your favor, which in turn enables us to fight hard for you to receive full and fair compensation for your injuries.
At Gerson & Schwartz P.A., we have decades of experience in handling personal injury and wrongful death claims in Southern Florida. Our most senior partner has represented clients throughout Florida for more than 50 years. Through the years, we have established a strong reputation based on our track record of success, relationships with nationally recognized experts, and the recognition we have received within the legal industry. We have been recognized by Best Lawyers, Million Dollar Advocates Forum, U.S. News, Super Lawyers, and we have the AV Preeminent Rating by Martindale-Hubbell.
To learn talk with one of our experienced accident attorneys and determine whether we are the right firm for you, call Gerson & Schwartz P.A. at (877) 475-2905 to schedule a free consultation.
Tourism Increases Traffic in Sunny Isles Beach, Florida
The City of Sunny Isles Beach, Florida is located on a barrier island in the northeast area of the county. It has a total area of 1.80 square miles and a population of approximately 22,300, as of 2017. To the east of the island is the Atlantic Ocean and to the west is the Intracoastal Waterway.
The island is accessible from Miami Beach by the Haulover Bridge, which was completed in 1925. The main thoroughfare through the island is Collins Avenue, which is lined with stores. The island has many condos, hotels, and resorts. The island features a half-mile-long, which was built 1936 and named a historic site in 1982. In 2013, the pier reopened after an extensive remodel as Newport Fishing Pier. In the early 2000s, many classic motels built in the 1950s and '60s were replaced by high-rise condos and hotels. Now, many high-end resorts draw in visitors to the island.
Sunny Isle Beach is a popular tourist destination. In 2017, the North Dade/Sunny Isle Beach area was the top fourth place visitors stayed, according to the Greater Miami Convention & Visitors Bureau. It was behind Miami Beach, Downtown Miami, and the Airport Area.
When tourists visit the island, vehicle and foot traffic increase dramatically. Both of these can be issues for motorcycle riders. If you or a loved one were involved in a crash on the island, do not hesitate to call our Sunny Isles Beach motorcycle accident attorneys for help.
Common Causes of Sunny Isles Beach Motorcycle Crashes
At Gerson & Schwartz P.A., our highly experienced motorcycle crash lawyers know that motorcycle accidents happen for countless reasons. From mere carelessness on the road to malicious road rage, we have seen it all.
Call us right away if you or a loved one were injured in a crash caused by:
Speeding
Drunk Driving/Impaired Pedestrians
Distracted Driving/Distracted Pedestrians
Drowsy Driving
Reckless Driving (Tailgating, Weaving, Chasing)
Wrong Way Driving
Unprotected Left Turns
Blind Spots
Careless Lane Changes
Failure to Yield the Right of Way
Defective Road Design
Hazardous Roads
Vehicle Defects/Mechanical Failure
You may not be sure of what caused the accident. Often times, you need a motorcycle accident attorney in Sunny Isles Beach to investigate the crash, review the evidence, and determine what happened and why. This analysis will point us in the right direction when it comes to pursuing compensation from the liable party.
Common Sunny Isles Beach Motorcycle Accidents We Handle
At Gerson & Schwartz P.A., we are here to help you after a:
Head-on Motorcycle Collision in Sunny Isles Beach
Rear-End Sunny Isles Beach Motorcycle Collisions
Failure to Yield Motorcycle Accident in Sunny Isles Beach
Sunny Isles Beach Motorcycle Side Impact Collision
Rollover Motorcycle Accident in Sunny Isles Beach
Distracted Driving Motorcycle Accident in Sunny Isles Beach
Drunk Driving Sunny Isles Beach Motorcycle Accident
Drugged Driving Motorcycle Accident in Sunny Isles Beach
Hit and Run Accident with Motorcycle in Sunny Isles Beach
Motorcycle Crash With a Commercial Vehicle in Sunny Isles Beach
Motorcycle Accident with an Uber in Sunny Isles Beach
Motorcycle-Pedestrian Accident in Sunny Isles Beach
Sunny Isles Beach Motorcycle Mechanical Failure
Sunny Isles Beach Road Hazards Accident
Sunny Isles Beach Poor Road Design Accident
Our motorcycle accident attorneys for Sunny Isles Beach residents and tourists will consider the type of the motorcycle crash and let this guide our investigation. We also will consider who else was involved and where the wreck took place. Depending on the situation, we may be able to obtain photos of the crash, video surveillance from nearby hotels and businesses, and eye witness testimony.
Contact Gerson & Schwartz P.A. Today
Following a motorcycle accident in which you were hurt or a relative was killed, you want to work with a highly experienced, skilled, and aggressive Sunny Isles Beach motorcycle accident lawyer. You need a legal representative who is not afraid to dig to find out what happened, stand up to the insurance company, and fight for you to receive the maximum compensation possible. We may focus on pursuing a full settlement, or we may thoroughly prepare to represent you at trial. We will do what it takes to get you the recovery you deserve.
To learn more, call Gerson & Schwartz P.A. at (305) 371-6000 to schedule your free consultation.