Sunny Isles Beach Personal Injury Lawyers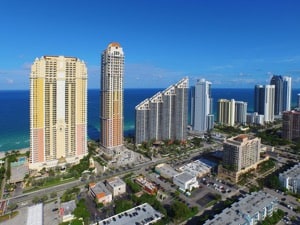 Each year, thousands of people visit Sunny Isles Beach to enjoy the weather or to frequent the area's shopping. This unique stretch of land that is surrounded by the Atlantic Ocean is also a popular spot for boating, spending a day at the beach, or relaxing at one of the famous waterfront cafes. Unfortunately, some of these people will suffer serious bodily injuries while visiting, which can leave them dazed and confused.
If you have suffered a serious injury in Sunny Isles Beach, you will need an experienced Sunny Isles Beach personal injury lawyer by your side to fight for financial compensation. Gerson & Schwartz have been advocating for the rights of our clients in Sunny Isles Beach for over forty years and are proud to call this area home. Contact us today to at (305) 371-6000 or at (877) 475-2905 to set up a free consultation so we can help to review the details of your case.
Types of Cases We Take
Personal injury is a broad area of law that covers many types of incidents that lead to bodily injuries. Our clients might have been injured by the careless, reckless, or intentional acts of another person or business. For example, we have decades of experience handling:
Car accidents in Sunny Isles
Motorcycle accidents in Sunny Isles
Sunny Isles Truck accidents
Sunny Isles Slip and fall Cases
Accidents Due to Premises liability
Catastrophic Injuries
Sunny Isles Wrongful death Claims
In fact, a person can be injured in any number of ways—simply walking down the street. If you have been injured and think someone else is to blame, seek legal assistance.
Negligence
Sometimes the central focus of a case is proving that someone else is at fault for your injuries. Legal liability does not attach simply because you have suffered an injury. Typically, you will need to show that someone injured you through their negligence, which requires that you show the following:
The defendant owed you a duty of care.
The defendant breached that duty.
You suffered an injury.
The defendant's breach caused your injury.
These elements depend on the circumstances. For example, a business like Tahiti Beach Club or Granier Bakery owes its customers a duty to keep its property reasonably safe by fixing known hazards or warning visitors of them. When a business fails to do either, it has breached its duty to treat its customers with care. And if a customer trips over something and falls, injuring themselves, then they might be able to make out a claim for negligence against the store owner.
Who We Have Sued
Anyone who negligently, recklessly, or intentionally injures you should be held responsible for your financial and non-economic losses. At Gerson & Schwartz, we have sued both large companies and private individuals on behalf of our clients. You can sue:
Resorts such as Newport Beachside Hotel and Resort or the Golden Strand Resort
Gas stations like Shell or Exxon on Collins Avenue
Restaurants and other businesses
Private individuals who injure you in a vehicle accident or on their properties
Recovering Damages for Our Client's Injuries
If a lawsuit is successful, the plaintiff can receive money damages for economic and non-economic injuries suffered because of the defendant's negligent or intentional conduct. Potential damages include:
Medical expenses (surgery, doctor's visits, prescription drugs, equipment, and rehabilitation)
Future medical expenses
Lost income
Loss of future income or reduced earning capacity if you cannot return to your old job because of your injuries
Pain and suffering
Emotional distress
Disability
Loss of companionship, society, and care
If someone intentionally or recklessly injured you, you might also be able to receive punitive damages. These damages are meant to punish defendants for particularly egregious conduct and can be several times your compensatory damages. For example, if your compensatory damages total $100,000, you might receive another $100,000 or more on top as punitive damages. At Gerson & Schwartz, we have received punitive damages for a variety of cases, including traffic accidents, drunk drivers, sexual assault, battery, and homicide.
Avoid Delay
Florida law gives injured victims a limited amount of time to sue for bodily injuries. In particular, Florida law provides that accident victims only have four years from the date of the accident to bring a lawsuit in an appropriate court. Those victims who wait too long will have their cases dismissed—which means no compensation for any of their injuries and no ability to hold the defendant responsible for their negligent or intentional misconduct.
Four years might seem like a long time, but it isn't. You will need a Sunny Isles Beach lawyer to thoroughly investigate your claims and possibly begin negotiations with the defendant's insurance company. All of this takes time. The sooner you reach out, the faster you can receive badly needed compensation to help you get back on your feet.
Contact Gerson & Schwartz Today
At Gerson & Schwartz, our Sunny Isles Beach attorneys work closely with our clients to outline the details of each case. We have experience in this area of law and are proud to work to protect the rights of our clients. We stand on over 50 years of success which has made us one of the most respected firms in Florida. Contact us today for a free consultation by calling (305) 371-6000 or (877) 475-2905 or by submitting a request through our online contact sheet.