Surfside Motorcycle Accident Lawyer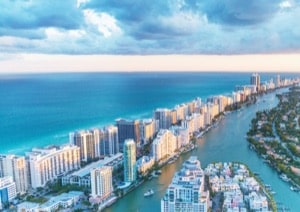 If you were injured or a loved one was killed in a motorcycle wreck, do not hesitate to call a Surfside motorcycle accident lawyer for help. Florida's beautiful weather and views are too enticing for motorcycle riders to resist. Whether it is the Overseas Highway or Collins Avenue, it is easy to find a long stretch of road to cruise down. Unfortunately, Miami and its surrounding towns, like Surfside, are no strangers to heavy traffic. You may take your motorcycle out to try to enjoy the day, only to find you are competing for space with many other motorcycles, passenger vehicles, and commercial trucks. If another rider or driver is careless while sharing the road, then you could find yourself injured in a serious motorcycle crash.
At Gerson & Schwartz P.A., our experienced team of pi attorneys include motorcycle accident lawyer in Surfside and the rest of Miami-Dade County. We are here to help after a crash. Our law firm has represented injury victims and surviving family members for more than 50 years. We use our decades of experience to thoroughly investigate your case, analyze liability for your injuries, and aggressively and creatively pursue compensation. Whether we pursue compensation from the at-fault party in court or we focus on negotiating an insurance settlement, our goal will be to obtain the maximum amount of compensation possible for your injuries.
To learn more about our firm and how we can help after a motorcycle wreck, contact us through our online form or call (877) 475-2905.
Motorcycle Accidents in Surfside, Florida
Surfside is a located on an island in Miami-Dade County, just off the coast. It has a population of between 5,000 and 6,000. Despite the small-town feel, it offers a mile of beach front property and world-class shopping, dining, and resorts. It is a popular tourist destination, for couples, groups of friends, and families.
The town of Surfside is surrounded by Bal Harbour to the north, Miami Beach to the south, Indian Creek to the west, and the Atlantic Ocean to the east. Running through the towns on the barrier island is Collins Avenue. As the main drag through Surfside, many hotels, resorts, shopping, and restaurants are off this street. It deals with a great deal of traffic, and motorcycles have to share the road with cars, commercial trucks, cyclists, and pedestrians.
All of the traffic, especially during a busy tourist season, increases the risk of a motorcycle wreck for a resident or visitor to the area. If you or a loved one were injured in a crash, do not hesitate to call our Surfside motorcycle accident attorneys at Gerson & Schwartz P.A. We are here to provide experienced and aggressive representation when you need to obtain full and fair compensation for your injuries.
Types of Surfside Motorcycle Accidents We Handle
At Gerson & Schwartz P.A., our motorcycle accident lawyers in Surfside have dealt with all types of motorcycle collisions and wrecks. Never hesitate to call us if you were injured or lost a loved one following:
Rear End Surfside Motorcycle Collisions
Head on Collisions With Motorcycles in Surfside
Failure to Yield Accidents in Surfside
Surfside Motorcycle Side Impact Collisions
Distracted Driving Motorcycle Accidents in Surfside
Drunk Driving Surfside Motorcycle Accidents
Hit and Run Accidents with Motorcycles in Surfside
Surfside Poor Road Design Motorcycle Accidents
Surfside Motorcycle Mechanical Failures
Surfside Road Hazards Accidents
Motorcycle Crashes With Commercial Vehicles in Surfside
Motorcycle Accidents With Uber vehicles in Surfside
Motorcycle Accidents on Collins Avenue
Common Causes of Surfside Motorcycle Wrecks
As a Surfside motorcycle accident law firm, we have seen these crashes happen for countless reasons. However, some of the most common reasons for motorcycle accidents in the area include:
Distracted Drivers
Drowsy Drivers
Drunk or Drugged Drivers
Speeding
Reckless and Aggressive Driving
Following Too Closely
Vehicle Blind Spots
You may not know what led to the motorcycle crash in Surfside that caused your injuries or the death of a loved one. We are here to find out. Let our Surfside motorcycle accident attorneys thoroughly investigate the crash, identify the negligent party, and pursue compensation on your behalf. Gerson & Schwartz P.A. has a track record of success in handling motorcycle accident claims and obtaining full and fair compensation at trial or through an insurance settlement.
Compensation for a Surfside Motorcycle Crash
When you are injured in a motorcycle wreck that is another person's fault, you have the right to hold them responsible. You may do this through an insurance claim, which is common if the at-fault party was a motorist, or through a personal injury lawsuit.
Whether your Surfside motorcycle accident lawyer focuses on litigation or the insurance claim, you can pursue compensation for your:
Past, current, and future medical expenses
Lost income
Pain and suffering
Emotional distress
Disfigurement
Disability
Reduced earning capacity
Reduced quality of life
Loss of consortium
Contact Gerson & Schwartz P.A. for Help After a Surfside Motorcycle Crash
Depending on the severity of the crash and your injuries, a motorcycle accident in Surfside can range from inconvenient to devastating. No matter how bad it is, we recommend working with a highly experienced, compassionate, and successful personal injury lawyer. We will help you get your motorcycle repaired or replaced, obtain the best possible medical care, and pursue full and fair compensation through an insurance claim or personal injury lawsuit.
Call Gerson & Schwartz P.A. at (305) 371-6000 to speak with a Surfside motorcycle accident attorney. You also can contact us through our online form to schedule a free initial consultation.