Surfside Personal Injury Lawyers
Attorneys in Surfside Committed to Representing Personal Injury Victims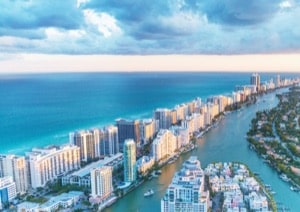 Many people visit the beautiful beaches and luxury hotels of Surfside, Florida every year. This is a popular vacation spot for those who enjoy fishing, boating, and surfing during the day. Others opt to relax by the pool or enjoy a picnic on the sand. When the sun goes down, visitors and residents of the area have many options of top-notch dining to choose from like Sushi Republic or Café Ragazzi. Ending the day with a party on the beach makes for a perfect vacation. While time spent in Surfside is typically low key, accidents can happen anywhere. If you have been hurt in Surfside, Florida, it is advisable to seek out experienced legal counsel.
Have you suffered a physical injury through no fault of your own? If so, you might be entitled to financial compensation. Injured victims file lawsuits every day in Florida's courts, seeking to hold negligent, reckless, and malicious defendants legally responsible for bodily injuries. If you have questions about your rights and believe you are due just compensation for your injuries, contact the Surfside personal injury attorneys at Gerson and Schwartz by calling (305) 371-6000 or (877) 475-2905. You can contact us online.
How People Suffer Personal Injuries
Personal injuries are injuries to your body. Any number of activities can result in bodily injuries, including:
You are involved in a car accident when driving down Harding Avenue, and another car collides with you.
You try to cross the intersection at Carlyle Avenue and 91st Street on your motorcycle when you are struck.
A drunk driver smashes into you on Harding Avenue.
You slip, trip, or fall inside one of Surfside's luxury beach hotels.
You get food poison at any of Surfside's many restaurants.
These are some of the ways our clients are injured. Whenever someone fails to be sufficiently careful around you, and this lack of care causes a physical injury, you might have a valid legal claim for negligence.
Common Injuries
Our clients struggle with devastating physical injuries which require months and years to heal. Some of our clients will be unable to return to their normal lives, which makes receiving financial compensation that much more important.
After an accident, victims can suffer any of the following injuries:
Broken bones
Crushed limbs
Amputations
Burns
Nerve damage
Neck injuries
Back sprains and strains
Spinal cord injuries
Head injuries
Traumatic brain injuries
Accident victims should seek out prompt medical care to improve their chances of making a full recovery. You should also document the accident as much as possible by, for example, calling the police to the scene of a car accident or taking pictures of any hazard that has injured you. This evidence can be essential for making a successful claim for compensation.
Emotional Complications of Physical Injuries
In addition to physical pain and suffering, victims frequently struggle with mental anguish and emotional distress. Our clients have reported feeling:
Depressed
Anxious
Nervous
Angry
Fearful
Irritable
This emotional distress requires immediate medical and clinical intervention. For example, some injured victims will require counseling or therapy, whereas others might need prescription drugs or other treatments to manage their symptoms. Even when emotional distress does not rise to the level of requiring intervention, many of our clients report a reduced quality of life.
So long as you suffered some physical injury—however minor—you can receive compensation for emotional distress and mental anguish. The amount is difficult to estimate, so you should meet with a qualified Surfside personal injury attorney for a case review.
How an Injury Lawyer Can Help
After an accident happens, you might be confused about where to turn. Our clients frequently show up at our office with dozens of questions and a fear that there is nothing that can improve their situation. Fortunately, a skilled Surfside lawyer is an enormous asset. He or she can do the following:
Identify who you can hold responsible. Sometimes, especially in multi-vehicle accidents, it is not always obvious, but thorough investigation can reveal the real party at fault.
Explain your rights and options. Every case is different, so there is no one-size-fits-all approach to personal injury cases. In some situations, pursuing a settlement will be your best option, while in other cases going to trial might be beneficial.
Collect evidence. You need to prove someone else's wrongful conduct caused your injury. This is a detailed, facts-and-circumstances analysis. Obtaining evidence takes time, money, and know-how, which few of our injured clients have.
Fight to maximize your compensation. Gerson & Schwartz has negotiated with the state's largest insurers, and we are prepared to put our experience to work for you. We have obtained many six-, seven-, and even eight-figure verdicts and settlements on behalf of our clients, and we will do everything possible to maximize your compensation as well.
Each of these steps is vital to make a compelling case, and hiring Gerson & Schwartz will give you a leg-up as you seek compensation for your injuries.
Speak with an Experienced Surfside Injury Attorney at Gerson & Schwartz
If you have suffered bodily injury, our lawyers are here to help. Gerson & Schwartz offers a no-risk free case evaluation so that we can understand your case and advise you about your rights. You can also ask any questions that you might have. Call us today at (305) 371-6000 or (877) 475-2905 or fill out our online contact form.