Surfside Slip and Fall Accident Lawyer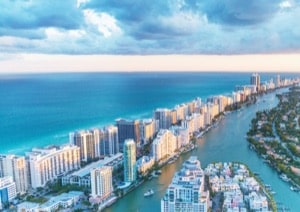 Did you fall and get injured on someone else's property? If so, call Gerson & Schwartz P.A. to speak with a Surfside slip and fall accident lawyer about your legal rights and remedies. Our personal injury law firm is conveniently located near Surfside and has more than 50 years of experience. Every lawyer and all members of our legal staff are knowledgeable about Florida's premises liability laws. We will thoroughly investigate the circumstances surrounding your fall, analyze whether you have a personal injury legal claim, and what if any appropriate legal action you may need to obtain compensation for your injuries.
Our law firm understands you may be frustrated and angry regarding your injuries. You may have been running errands, out to dinner with friends, or on vacation in Surfside when you fell. You may be sure that the fall was caused by slipping or tripping on a hazard that should not have been there in the first place. In these circumstances, it is important to talk to a slip and fall accident attorney in Surfside regarding whether the property owner, manager, or tenant was negligent and legally responsible to pay money damages as compensation you for your injuries.
At Gerson & Schwartz P.A. our lawyers have are widely recognized in the legal profession for our commitment to our client's cases. Our firm also has an established reputation in the South Florida legal community as well as with insurance companies. Insurers and businesses in Surfside know we are serious about obtaining full and fair compensation for our client seriously injured due to the negligent and careless acts of others. It is through our prompt, aggressive, and often out-the-box approaches that we have a track record of success.
To learn more about Gerson & Schwartz P.A. after a slip and fall accident in Surfside, contact us online or by calling (877) 475-2905.
Surfside, Florida Slip and Fall Accidents
Surfside, Florida is located on an island off the coast of Miami-Dade County. It is part of Miami Beach with a population of fewer than 6,000 people. Yet even as a small town, it provides world class establishments and entertainment. The beaches, resorts, shopping, and restaurants bring tourists from all over the U.S. and world. It is in these establishments, though, that you may be at risk for getting hurt in a slip and fall. Many of Surfside hotels and restaurants are located on Harding and Collins Avenue. Some of Surfside Florida's nearby tourist attractions where a slip and fall may occur include luxury hotels like the Four Seasons, Grand Beach Hotel Surfside, and the Solara Surfside resort.
How Gerson & Schwartz P.A. can Help You
The law that applies for a slip and fall in Surfside or any other place in Florida can be complicated. For instance, Florida has a specific law regarding wet, foreign or transitory substances in businesses. Under Florida Statutes 768.0755, injury victims must prove a business had actual or constructive knowledge of a dangerous condition. This can be challenging to do, especially without the help of a Surfside slip and fall accident attorney. Victims are required to prove that the:
A dangerous condition on property existed for a length of time that, in the exercise of reasonable care, that a business establishment knew or should have known of the condition;
The condition occurred with such frequency or regularity and was therefore foreseeable.
Our lawyers will investigate the circumstances of your slip or fall incident. If hired to represent you, we will investigate:
Has this happened before? If so, how many times?
Is there an ongoing problem with this floor surface?
Does the surface meet the minimum standard for slip resistance?
Was the property owner, manager, or operator aware of a danger or should they have known of a particular risk of harm?
Common Causes of Slip and Falls
If you were injured in a fall on public or private Surfside, FL property, call Gerson & Schwartz P.A. to investigate your accident as soon as possible. If you wish to pursue compensation for your slip and fall injuries, you need to determine why the fall happened. More specifically, a lawyer's independent investigation to uncover the defect that created the dangerous condition on the property.
Our slip and fall attorneys have found these accidents often occur due to:
Negligent maintenance
Wet, foreign, or transitory substances
Failure to use non-skid strips and or slippery surfaces
Loose rugs, carpets, and mats
Spilled food, liquids, and other substances
Standing or pooled water
Recently mopped or waxed floors
Falls due to a lack of visibility in the area, including dim or too little lighting
Loose or defective handrails
A slip, trip and fall due to defective nosing or loose steps
Keep in mind, our legal team handles claims outside of the typical slip and fall accident case. We also can help if you tripped or stumbled and fell. We have found that many trip and fall accidents happen when there are cords left in walkways, debris or garbage on the ground, or loose or ripped carpet or rugs.
What You Should do After a Slip and Fall Accident in Surfside
If you or a loved one fell in Surfside, FL, get immediate medical attention. If you or your companion appear to be seriously injured, you should see a physician as soon as possible. You may not want to move if you fear a serious injury such as a back, neck or spinal cord injury. If you feel it is safe to move, and an ambulance is unnecessary, you should still see a physician for a full check up as soon as possible. Unless you leave with emergency medical personnel, do not leave the property right away.
If you are at a business, notify the manager and make a report of the fall. If the business creates a business document, ask for a copy. If the manager refuses to provide a copy of the document, tell your Surfside slip and fall accident lawyer right away.
You also should gather the names of the business's manager and employees on duty at the time. You may not need the name of every employee. However, ask for the names of workers who are supposed to take care of or monitor that area of the business.
Above all, once you gather the initial information and take photos of the area, contact our experienced slip and fall accident lawyers in Surfside, Florida. You should obtain accurate legal information and advice from an experienced and skilled attorney.
As a reminder we recommend you:
Report the Incident and Request a Copy
Take photos and video
Get the names of any witnesses and employees in the area.
Document the condition or hazard that caused the fall, such as a spill, loose rug, or poorly lit stairwell
Document the events before conditions change
if there were witnesses nearby, ask for their names and contact information and request they provide you with a statement
Got Questions? Call Gerson & Schwartz PA at (877) 475-2905
For a free consultation with an experienced accident attorney, contact Gerson & Schwartz P.A. through our online form or call (305) 371-6000 to schedule a free consultation. Our lawyers also make house calls if necessary. Se Habla Espanol.