Surfside Truck Accident Lawyer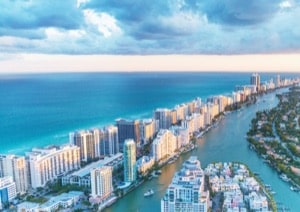 If you were injured in an accident with a commercial vehicle, or if your loved one was killed, call a Surfside truck accident lawyer at Gerson & Schwartz P.A. right away. Before being involved with a truck wreck, you may assume it is similar to a car crash. However, truck accidents are far more complex than the average car accident, and they require specific legal knowledge and experience.
At Gerson & Schwartz P.A., we have been helping Florida residents and visitors after serious accidents for more than 50 years. Our decades of collective experience including investigating trucking accidents throughout Miami-Dade County. We are not afraid to go up against major motor carriers and their insurers. We are not afraid to negotiate for a fair insurance settlement or to litigate your claim.
To learn more about how our truck accident lawyers for Surfside can help you and your family right now, call us at (877) 475-2905. Or, you can reach out to us online to schedule a free initial consultation.
Surfside Truck Accidents
Our team at Gerson & Schwartz P.A. is familiar with the small community of Surfside, Florida. Located on a barrier island off the north coast of Miami-Dade County, Surfside offers world-class attractions. It has pristine beaches, resorts, restaurants, shopping, and more on Collins Avenue to draw in tourists. Though it is a community of fewer than 6,000 people, the population of the area swells during tourist season.
To support the tourist industry, many restaurants, bars, retail stores, and hotels receive goods that are delivered by commercial trucks. Other businesses like grocery stores, which support the local community, also receive shipments from commercial trucks. All of this means that locals and visitors must share the road with large trucks on a regular basis, which can increase the risk of a crash.
Our Surfside truck accident attorneys have represented both residents and tourists after they are injured by a:
Surfside truck accident caused by fatigue
Surfside truck accident caused by distracted driving
Impaired truck driver in Surfside
Surfside truck accident due to negligent maintenance
Surfside truck accident due to negligent hiring and retention
Surfside wide-turn truck accident
Surfside blind spot truck accident
Surfside override/underride truck accident
Head-on truck accident in Surfside
Rear-end truck accident in Surfside
Improperly loaded truck or unsecured cargo in Surfside
Surfside truck accident caused by brake failure
Jackknife truck accident in Surfside
Whatever the type of trucking accident you or a loved one were involved in, we recommend calling us at Gerson & Schwartz P.A. as soon as possible. Not only are we highly experienced with truck accident claims, but we are recognized by the legal community for our knowledge, skills, and success. Our firm has been recognized by Best Lawyers, U.S. News, Super Lawyers, and Legalelite. We are part of the Million Dollar Advocated Forum, and we have achieved the AV Preeminent rating by Martindale-Hubbell. We also have high ratings on Justia and Avvo.
A Surfside Truck Accident Lawyer Should Investigate the Truck Wreck
One of the reasons truck accident cases are more complex than car crashes, typically, is because the underlying causes of truck accidents are often different and not obvious immediately following the accident. Another reason is that commercial trucking is highly regulated by the Federal Motor Carrier Safety Administration. Truckers and trucking companies must adhere to FMCSA regulations, while personal drivers and vehicle owners do not.
Following a crash with a semi-truck or other commercial vehicle that causes you harm or the death of a relative, you need to work with a specific truck accident attorney in Surfside. To begin with, truck accident investigations are more complex and in-depth than a car accident investigation. Your lawyer should immediately file a lawsuit and cast a wide net when naming possible defendants. Often times, the only way to obtain essential evidence is to fully utilize the discovery process during litigation.
You will need the knowledge and assistance of an attorney who is well-versed with FMCSA regulations. This will enable your lawyer to look for regulatory violations in connection with the crash, such as whether the trucker and their employer followed the required inspection and maintenance regulations or whether the trucker adhered to hours of service rules.
Pursuing Compensation After a Truck Wreck in Surfside
When you are injured in a collision with a commercial vehicle, another benefit of working with an experienced Surfside truck accident law firm is that you improve your chance of maximizing your compensation. Our experienced personal injury lawyers at Gerson & Schwartz P.A. will build you the strongest claim possible. Then, we will aggressively pursue compensation for your:
Medical Expenses
Lost Wages
Pain and Suffering
Emotional Distress
Disfigurement
Disability
Reduced Earning Potential
Loss of Normal Life
We may focus on obtaining an insurance settlement. Motor carriers and truckers should and usually do have substantial insurance policies to cover property damage and bodily injury from a crash. However, if the company denies responsibility or refuses to negotiate a settlement in good faith, then we will not hesitate to head to trial. We are not intimidated to take your claim before a judge and jury.
Call Gerson & Schwartz P.A. for Help Today
After a trucking accident, you may be dealing with serious injuries. You may be off work, and it can be frightening to see the medical bills come in when you have not been paid in weeks. Our Surfside truck accident lawyers are here to help you address these expenses and fight hard to receive the compensation you deserve.
Contact Gerson & Schwartz P.A. through our online form or call (305) 371-6000.