Tamarac Pedestrian Accident Lawyer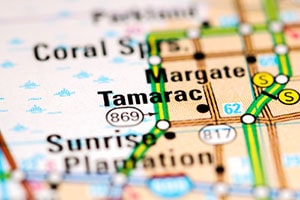 With more people walking outdoors, Tamarac residents may become victims of pedestrian accidents. Most pedestrian accidents involve automobiles, however they can also be result from dangers in general walkways, such as broken or uneven walking surfaces or potholes. Pedestrian accidents that occur as the result of an automobile accident can be particularly severe. Without the protective environment that passengers in vehicles have, pedestrians absorb the impact of a car crash directly, often resulting in severe, even fatal, injuries. Serious injuries may also impact your ability to work, creating a financial burden on you and your family due to lost wages. If your family has experienced the painful loss of a loved one, we can answer your questions about a wrongful death claim. Contact a Tamarac pedestrian accident lawyer at Gerson & Schwartz at (305) 371-6000 for a free consultation.
For more than 50 years, attorney Philip Gerson and his team help pedestrian accident victims and their families to receive the compensation that they deserve. Since 1970, Philip and the rest of his team have worked with accident victims to recover lost wages and pay for medical treatment, as well as wrongful death suits for families that have lost a loved one. The Gerson team helps families struggling financially and emotionally to get back on the path of restoration. If you have questions about recovery of lost wages or payment of medical treatment associated with a pedestrian accident, contact the Tamarac pedestrian accident attorneys at Gerson & Schwartz.
Our Tamarac pedestrian accident lawyers serve clients in the capacity of:
Tamarac wrongful death pedestrian accident attorney
Pedestrian accident attorney for injuries caused by DUI
Slip and fall pedestrian accident attorney in Tamarac
Tamarac Uber pedestrian accident attorney
Truck pedestrian accident attorney in Tamarac
Left-turn pedestrian accident attorney in Tamarac
Tamarac premises liability pedestrian accident attorney
Tamarac parking lot pedestrian accident attorney
Tamarac Pedestrian Accident Victims
The warm weather and sunny skies draws both residents and tourists to Tamarac. Those who enjoy the outdoors in this family-friendly community are treated to many parks, country clubs, and lakes for fishing or boating. Tamarac has an ethnically diverse population and is called home by families and retirees alike. The city offers a robust public transportation system, with many residents using public buses to go to work or to visit the city's many restaurants and stores.
With a large number of residents using public transportation to get to and from work, as well as to travel throughout the city, there is an increased number of people crossing streets, waiting at intersections, and walking along the roads. This, coupled with large volumes of cars on the streets of Tamarac, can increase the chances of pedestrians being hit. Pedestrian accidents can result in severe and life-changing injuries. Injuries to the head, neck, and spine are common in these accidents and can result in years of physical rehabilitation to recover.
Injured in a Pedestrian Accident?
Pedestrians that have been injured in an accident may be entitled to the following;
Compensation for the loss of current and future income
Payment of current medical expenses and future treatments
Compensation for pain and suffering
Scarring disfigurement and the inability to lead a normal life
Emotional and psychological harms
Families that have experienced the loss of a loved one in a pedestrian accident are often left to struggle with the financial and emotional hardships. Families may be eligible to file a wrongful death claim to assist in the payment of medical expenses and funeral costs, as well as provide financial help to replace the loss of income.
Tamarac Pedestrian Accident Attorney
Traffic accidents involving pedestrians can cause serious injury and could result in death. Our Tamarac pedestrian accident attorneys can help you through this process. We can answer questions about medical treatment, pain and suffering, and lost wages that often result from a pedestrian accident. If your family has experienced the painful loss of a loved one due to a pedestrian accident, we can help. Contact a pedestrian accident lawyer in Tamarac at Gerson & Schwartz at (305) 371-6000 or toll free at (877) 475-2905 for a free consultation.