Tamarac Truck Accident Lawyer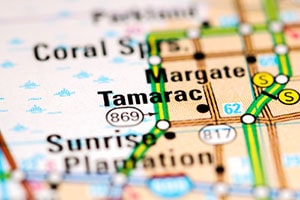 With a vision to build an active adult community, Tamarac was established in 1963 by real estate developer Ken Behring. Since its inception, the city of Tamarac has grown to over 63,000 residents, with a mix of families and retirees having different ethnical backgrounds. With its reasonably priced homes, abundance of lakes, and warm weather, Tamarac draws in both visitors and residents.
Tamarac is centrally located between the highly travelled streets of University Drive, Commercial Boulevard, Oakland Park Boulevard, and Highway 441. Given the heavy construction in the South Florida area, large commercial trucks often use these roads to reach their destination. As such, the city sees its share of traffic and congestion, often times contributing to accidents. The total size of these trucks, as well as flying fragments, high speeds, and reckless driving produce unsafe driving conditions for Tamarac drivers. This can often lead to accidents that result in serious damage, possibly even death. If you or a loved one is a victim of a truck accident, contact our Tamarac truck accident lawyers at Gerson & Schwartz at 305-371-6000 for help.
For over 35 years, Ed Schwartz has helped victims involved in large truck accidents by defending their rights. Ed helps them to receive the compensation they deserve. Ed is a board certified attorney in the State of Florida, serving clients with personal injury and wrongful death claims. Ed is admitted to practice in all Florida courts and helps those injured in truck accidents to navigate through the complexities of insurance and legal responsibility. Victims have questions about recovering lost earnings, paying for remedial care and visits to the specialist, and fixing their cars. The Tamarac truck accident lawyers at Gerson & Schwartz will guide you through the steps you need to take. If you've lost someone in a truck accident, we can support you with making a claim or lawsuit for wrongful death. If you have been injured from an accident involving any type of trucking vehicle, you should express that with our Tamarac truck accident attorneys, contact Gerson & Schwartz at 305-371-6000 for a free and confidential consultation.
The truck accident attorneys at Gerson & Schwartz help accident victims in many ways including:
Lawyer for large truck accident wrongful death claim in Tamarac
Tamarac pedestrian injury accident involving a large truck attorney
Negligent large truck operator accident lawyer in Tamarac
Large truck accident caused by a head-on collision accident attorney in Tamarac
Large truck operator DUI accident injury attorney in Tamarac
Tamarac impaired truck driver injury accident lawyer
Large truck accident caused by loose debris lawyer
Attorney for wrong-way large truck and automobile collisions in Tamarac
Large truck collision with Uber driver accident lawyer
If you have been injured in a large truck collision, find out what your rights are. Call Gerson & Schwartz for a confidential consultation.
Victims of Large Truck Accidents in Tamarac
The difference in size between a large truck and an automobile can cause severe injury in a truck accident. Damage to the spinal cord or brain, as well as burns or amputations, are common injuries that may result from an accident involving a large truck, leaving victims unable to work and unable to deal with the mounting medical bills.
Complexities of Large Truck Accidents
Large truck accidents involve complex liability issues. Big semi-tractor trailers, construction vehicles, and commercial vans are company-owned and are driven by truck drivers who work for them. This creates an intricate scenario as there may be multiple responsible parties in a truck accident. Determining the liability of each potential and responsible party, as well as bodily injury insurance and legal duties and responsibilities, may be based on different factors for each party involved making these cases thorny.
Our Tamarac truck accident lawyers understand this progression and will take the time to examine the many complexities of a truck accident case including:
Responsible parties
Truck driver negligence
Mechanical or maintenance failures
Ownership issues
Insurance coverage
Accidents involving commercial trucks are multifaceted cases. You don't need to navigate these alone. If you have been injured as the result of a truck accident, give our Tamarac Truck Accident Lawyers a call today at 305-371-6000. We listen. We help.