Tamarac Wrongful Death Lawyer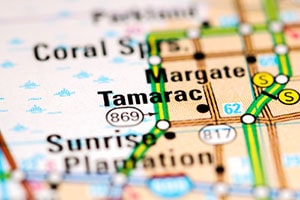 The city of Tamarac is mixed with both families and retirees. With over 63,000 residents, Tamarac is a flourishing city that has many schools, restaurants, stores, and businesses. Residents and visitors enjoy the warm weather and sunny skies, often playing golf at the many country clubs, fishing or boating in lakes, or taking walks at one of the many parks in the city.
Tamarac residents may experience the pain of losing a loved one in an accident. Pain and loss leaves families distraught, angry, and alone. Losing a family member can place a financial and emotional toll families. A wrongful death suit may allow families the opportunity to financially recompense themselves when faced with this horrendous loss. The Tamarac wrongful death attorneys at Gerson & Schwartz have helped wrongful death survivors to recover compensatory damages resulting from the reckless, negligent or intentional acts that caused the fatal incident. If you are dealing with a wrongful death loss due to an accident and require assistance, then contact the Tamarac wrongful death attorneys at Gerson & Schwartz at 305-371-6000 for a free consultation.
Phil Gerson is a board certified attorney that has practiced law for over 40 years. As a board certified civil trial lawyer, Phil works with families to recoup the financial and emotional damage resulting from negligence or reckless actions of another. Phil concentrates his practice on wrongful death cases representing impacted families to recover from the loss of loved one. If you have lost a loved one in an accident, we can answer your questions about wrongful death suits. Contact our Tamarac wrongful death attorneys at 305-371-6000 for a free consultation.
Our Tamarac Wrongful death lawyers provide service to clients in the roles of:
Attorney for wrongful death claims caused by a DUI accident in Tamarac
Wrongful death resulting from medical malpractice Tamarac lawyer
Tamarac wrongful death resulting from a bike accident
Attorney for families of victims involved in fatal parking lot shooting in Tamarac
Tamarac drunk driving accidents leading to wrongful death attorney
Wrongful death accidents involving Lyft drivers in Tamarac
Tamarac attorney for vehicle head-on crash wrongful death suit
Rollover accidents causing wrongful death Tamarac lawyer
Attorney representing victims of fatal left turn car crashes in Tamarac
Motorcycle accident wrongful death claim attorney in Tamarac
Attorney for Uber driver collision resulting in death of victim in Tamarac
Product defects causing death of victim in Tamarac accident lawyer
Wrongful death claim resulting from a Tamarac slip and fall accident
Tamarac attorney car accidents leading to wrongful deaths
Lawyer for deceased victim of violent crimes in Tamarac
Attorney for armed robbery victim death in Tamarac
Wrongful death suit due to Tamarac apartment shootings
Tamarac Wrongful Death Claims
When the victim of an accident was the financial provider for the family, families may question how they can recover the loss of income or pay for medical bills and funeral costs. If you have experienced a loss from a tragic accident, contact the Tamarac wrongful death attorneys at Gerson & Schwartz for a free consultation at 305-371-6000. Wrongful death suits are handled under a Florida Supreme Court approved contingency fee basis. Fees connected with the wrongful death suit are only paid if the case has a positive result.
Wrongful Death Claims
When an accident arising from the negligence or reckless act of someone else results in a death, a wrongful death claim may be an option for families. Wrongful death claims can occur due to automobile accidents, slips and falls, defects in products, or complications resulting from medical malpractice. Criminal activity that results in the death of a victim may also be considered a wrongful death accident.
Tamarac Wrongful Death Attorney
If you are considering a wrongful death suit, the Tamarac wrongful death lawyers at Gerson & Schwartz can help you. These are complex claims that should be pursued with the help of legal counsel. If you have questions about whether your family's situation qualifies from such a claim or you are wondering how the process works, we can assist you through the process. If the careless or negligent actions of another has resulted in the death of someone you love, contact the Tamarac wrongful death lawyers at Gerson & Schwartz today at 305-371-6000.