The Roads Personal Injury Lawyers
Dedicated Attorneys Representing Personal Injury Victims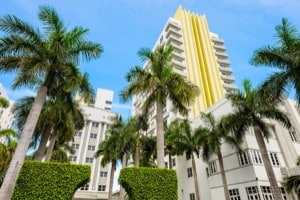 The Roads enjoys a close proximity to Miami, while remaining a primarily residential neighborhood. Walking through this area you'll notice beautiful historic homes, neatly kept landscaping, streets canopied by old growth trees, and award winning public schools. One great piece of trivia to remember is that this area is not included in the Miami street grid. Therefore, all of the street names end with "road" instead of avenue, street, or boulevard, giving it the name "the roads." While this area is mostly quiet and peaceful, accidents still can happen.
After an accident, our clients might be confused about where to turn and what to do. Many of them are unable to work as they try to recover from their injuries, and they are worried about how they will pay their bills. The experienced Roads personal injury attorneys at Gerson & Schwartz have worked for over four decades to represent clients in Southern Florida. Call us today at (877) 475-2905 or (305) 371-6000. You can also contact us online to schedule a free consultation.
Losses Associated With Personal Injuries
Oftentimes, accident victims suffer many economic and non-economic losses, including:
Medical expenses: the costs associated with treating your injuries. These can include surgery, doctor's visits, prescription drugs, equipment, and rehabilitation costs.
Lost wages: if you cannot work because of your injuries, you might be eligible to receive compensation to make up for the amount lost.
Property damage: in some cases you can receive money if your car or other property was damaged in an accident.
Physical pain and suffering
Emotional distress for the emotional fallout associated with physical injuries. This can include embarrassment, anger, grief, embarrassment, and irritability.
Carefully documenting these losses can help strengthen your case. To that end, keep all medical bills and receipts, as well as a careful record of how much income you have lost.
Proving Negligence
Our clients have been injured in numerous ways, such as:
Motor vehicle accidents, i.e., car, motorcycle, truck, or bicycle
Pedestrian accidents, if you were hit by a vehicle
Fall incidents, if you slipped or tripped in a business or on public or private property
Medical malpractice when you are injured by the incompetence of a medical professional
The facts you need to prove negligence will depend on how you were injured. For example, if you slipped and fell at Publix Super Market or another establishment, you might need to prove that the business failed to fix a hazard they knew about or should have known about, or that they failed to warn you of the hazard. A restaurant that let liquid stay on the floor for a half hour might be responsible if you slipped on the puddle and injured yourself after falling.
Conversely, if someone plowed into you on Interstate 95 or SW 3rd Street, you might need to show that the driver did not operate their motor vehicle with sufficient care. Drivers can carelessly injure people when they:
Drive distracted
Speed
Pass illegally
Fall asleep at the wheel
Drive under the influence of drugs or while intoxicated
A Track Record of Success
For over 50 years, Gerson & Schwartz has fought for victims' rights. We have an unparalleled record of success and have received numerous six- and seven-figure settlements and jury verdicts on behalf of our injured clients. Below are only some of the few of our favorable outcomes :
A $2.5 million settlement for a wrongful death action brought by the survivors of a musician killed in a motorcycle accident
A $2.1 million verdict for a jogger who suffered brain injury when struck by an intoxicated driver
A $2.2 million settlement for a secretary who suffered spinal cord injuries when struck by a car
A $700,000 verdict for a slip-and-fall aboard a cruise ship.
A settlement in the middle six figures for a slip-and-fall inside a residential condominium
A $400,000 award for a client who fractured her hip and back in a mall
A $250,000 settlement for a client who fractured her wrist when she slipped and fell
Save Paperwork
Some of our most successful clients are those who have fully documented their losses, as well as the circumstances surrounding their injuries. For example, remember to collect the following:
Medical records that show the severity and extent of your injuries
Medical bills for all out-of-pocket sums spent on treatment
Estimates for repairs to your vehicle if it was damaged in the incident
Any police report
Any communication from an insurance agent
A written summary of your own memories of the accident
The names and contact information for any witnesses to the incident
Your lawyer can gather some of this information and follow up by, for example, interviewing witnesses. But helpful evidence has a way of disappearing the longer you wait, so collect as much as possible before meeting with your lawyer.
Speak to a Lawyer in The Roads Today
If you or loved one has suffered bodily injuries, seek legal counsel immediately. It is advisable to move quickly in order to protect your legal rights. At Gerson & Schwartz, our Roads personal injury lawyers handle some of the toughest cases around. Contact us today for a free initial consultation by calling (877) 475-2905 or at (305) 371-6000. You can also send an online message.