Broward County Slip and Fall Accident Lawyers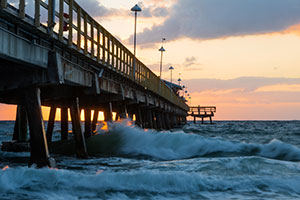 Over 8 million visits to the emergency room each year are the result of slips and falls. Slips and falls have a high prevalence and can occur anywhere, including in Broward County. They are often the result of debris laying on a floor, uneven walkways, or unattended spills. Often times, they may directly occur to the failure to maintain a property in a safe fashion, such as repairing broken items, cleaning up spills, and removing walkway obstacles. They can occur anywhere including a place of employment, a store, restaurant, or in a neighbor's home. Slips and falls can cause broken bones, torn ligaments, back and neck pain, or other painful injuries. These injuries may interfere with your ability to work. As a result, you and your family may be subject to lost wages and mounting medical bills through no fault of your own.
The Broward slip and fall legal team at Gerson & Schwartz can help you recover what's been lost. Our Broward slip and fall attorneys have helped injured clients restore the lives they once led. Injured parties often ask if they are entitled to lost wages due to the injury or how they can pay for their medical treatment. If you've been seriously injured and would like to speak to our Broward slip and fall attorneys, contact Gerson & Schwartz at (305) 371-6000 for a free consultation.
Our Broward Slip and Fall Accident Attorneys serve negligence victims in the following roles:
Broward property owner negligence slip and fall accident attorney
Floor debris slip and fall accident lawyer in Broward
Broward employer negligence slip and fall accident attorney
Broward personal injury lawyer for hazardous conditions slip and fall accidents
Broward slip and fall accident attorney for homeowner negligence injuries
Lack of repair slip and fall accident attorney in Broward
Unsure if you have a case? Contact Gerson & Schwartz for a free consultation.
Broward Slip and Fall Accident Victims
Broward County is home to over 1.9 million residents. There are 590 shopping centers located throughout the county, with multiple stores in each location including grocery stores, restaurants, clothing retailers, personal care services, and other establishments. Broward County is home to over 47,000 small businesses and several large corporations, including AutoNation, Citrix Systems, and Spirit Airlines.
Where Do Slip and Fall Accidents Happen in Broward County?
Injuries from slip and fall accidents can occur in businesses, homes, or at your place of employment. In some cases, injuries resulting from slip and fall accidents can result in debilitating pain, permanent disability, or even death.
Slip and fall accidents may include:
Falling down stairs – Stairs that are slippery, too wide, too narrow, or are broken
Uneven walkways – Walkways that have cracks, seams, or jagged edges
Potholes – Dips or holes in parking lots
Changes in flooring – Moving from carpet to hardwood floor or other surfaces can cause slips and falls
Debris – Objects that block walkways, either partially or completely, causing the injured party to walk around, step over, or trip on the debris
Curbs – Uneven, broken, or hidden curbs
Spills – Unattended spills or improperly sectioned off areas without warning signs
Broward Slip and Fall Attorneys
Our attorneys currently serve clients in these Broward County cities and their surrounding areas:
North Lauderdale, Hallandale Beach, Pembroke Park, Weston, Lauderdale Lakes, Coconut Creek, Sea Ranch Lakes, Oakland Park, Davie, Hollywood, Lighthouse Point, Dania Beach, Miramar, Wilton Manors, Margate, West Park, Parkland, Pompano Beach, Plantation, Lauderdale by the Sea, Sunrise, Tamarac, Lazy Lake, Coral Springs, Lauderhill, Pembroke Pines, Deerfield Beach, Southwest Ranches, and Fort Lauderdale.
The Broward County slip and fall accident attorneys at Gerson & Schwartz can help you and your family to get on the path of recovery. If you or your loved one has been injured in a slip and fall accident, contact us for a free consultation at (305) 371-6000.