Broward County Slip and Fall Accident Lawyers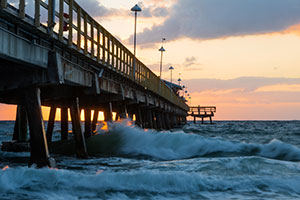 If you were injured in a slip and fall accident, or a loved one was the victim of a fatal fall, contact our Broward County slip and fall lawyers at Gerson & Schwartz P.A. Our veteran attorneys have more than 48 years of experience handling slip and fall and other premises liability claims. We will conduct a prompt, thorough, and independent investigation into the incident. The evidence we gather may be used to pursue compensation through an insurance claim or lawsuit.
Our goal is always to obtain just compensation for your physical, emotional, and financial injuries. We are proud of our track record of success in winning our client's settlements and court awards. To talk with us about our recent slip and fall case results, contact us online or call (877) 475-2905. We offer free consultations.
Common Causes of Slip and Fall Accidents
Slip and fall accidents happen for all sorts of reasons. In most cases, a hazard exists on a property because of negligence. The property owner or manager should inspect their property, maintain it to ensure it is reasonably safe for visitors or customers, and warn others of potential hazards.
When property owners or managers are not as careful as they should be, slip and falls happen because of:
Spilled food, beverages, other substances
Standing water
Recently mopped or waved floors
Lack of non-slip surfaces
Mats and rugs without non-slip backing
Loose handrails and railings
Loose, uneven, or cracked flooring
Poor lighting
To have an experienced Broward County slip and fall attorney uncover the cause of your slip and fall accident, call Gerson & Schwartz P.A. right away.
We Handle Slip and Falls in Broward County
At Gerson & Schwartz P.A., we handle slip and fall accidents that happen on private and public property in Broward County.
Broward County is located in southern Florida and is a part of the Miami metropolitan area. It has a population of more than 1.95 million people. It is the second most populous county in the state and the seventh largest county in regard to land area. Within the county are 31 municipalities, including 24 incorporated cities.
Our slip and fall lawyers in Broward County help individuals who were injured in cities or unincorporated areas.
Some of the most common locations for slip and fall or trip and fall accidents include:
Broward county grocery stores and supermarkets
Broward County gas stations and convenience stores
Broward County restaurants, bars, and coffee shops
Broward County hotels and motels, like Sunnyside Motel
Broward County large retail and chain stores like CVS and Family Dollar
Broward County small stores and boutiques
Broward County public parks and playgrounds
Broward County doctors and dentist offices
Broward County parking lots and parking garages
Broward County sidewalks
Broward County single-family homes, condos, and apartment complexes
Did You Fall at the Grocery Store?
Contact our slip and fall attorneys in Broward County if you were hurt at the grocery store. We routinely handle:
No matter which grocery store or supermarket you were hurt at, we are here to help. We know how to investigate a grocery store slip and fall accident, including reviewing the store's policies, the store's history of slip and fall accidents, who was on duty that day, and the on-duty employees' records.
Florida Law Regarding Slip and Falls on Spilled Substances
If you suffered an injury because you slipped on some wet, slick, or greasy substance on the ground, you need to call a Broward County slip and fall lawyer right away.
Under Florida Statute Section 768.0755, there is a fairly high standard for proving you fell on a substance in a business and deserve compensation.
The law requires that if you fell on a transitory foreign substance in a business, you must prove that business had actual or constructive knowledge of the dangerous condition and should have taken action to remedy it.
You can prove the business had constructive knowledge if you can show:
• The dangerous condition existed for long enough that in the exercise of ordinary care, the business should have known about the condition; or
• The condition occurred regularly and was foreseeable.
Because of this standard, it is important to have a lawyer on your side when fighting for slip and fall compensation.
Broward County Slip and Fall Compensation
If you were injured in a slip and fall accident that was another individual or business's fault, then you may have the right to obtain compensation for your:
Medical Expenses
Lost Wages
Other Expenses
Pain and Suffering
Emotional Distress
Disfigurement
Disability
Reduced Earning Potential
Loss of Normal Life
Loss of Consortium
Got Questions? Call Our Broward County Slip and Fall Attorneys
When you have questions regarding your rights and options after a slip and fall in Broward County, call Gerson & Schwartz P.A. at (305) 371-6000 or email us at info@gslawusa.com.