DUI / DWI Car Accidents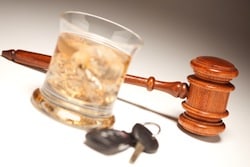 DUI also known as driving under the influence claims hundreds of lives and injuring thousands every year. DUI related accidents and deaths are not just a problem in Miami, Florida but across the nation. At Gerson & Schwartz, P.A., our Miami DUI accident lawyers are committed to fighting for the rights and best interests of those affected by DUI accidents in Miami against others who choose to operate a vehicle under the influence whether it's alcohol and/ or drugs. There is no law in the state that prevents someone from simply having one single drink or taking a legal drug and getting behind the wheel of a car. However, that changes when a driver is deemed impaired by that substance. One is considered "under the influence" when his or her normal faculties have become impaired.
Because impaired driving violates various criminal statutes, DUI accidents are a form of negligence per se, which establishes negligence a matter of law. For DUI car accident victims in Miami, Fort Lauderdale or Palm Beach, a legal finding of driving under the influence may also be legal grounds to pursue punitive damages, which could result in a drunk driver being punished. DUI crashes not only apply to alcohol. DUI accidents or impaired driving claims can be applied to any type of legal or illegal substance that impairs a driver's ability to where his or her normal faculties are impaired.
DUI accident claims can apply driving under the influence of:
Marijuana
Opiates
Pain killers
Sleeping pills
Narcotics
Other prescription medications
Our DUI accident lawyers serving Miami have represented clients injured in:
Punitve Damages for Miami DUI Accident Claims
This is a separate type of claim aside from compensatory damages. Under Florida law, punitive damages can be awarded up to 9 times the amount of compensatory damages. However, in a drunk driving accident case, there is no limitation. That means a jury can award whatever amount they feel is just.
Miami and Florida DUI Statistics
The Florida Department of Highway Safety and Motor Vehicles (FLSMV) estimates approximately 375,000 reported traffic crashes statewide in 2015, involving some 630,000 drivers. This breaks down to about 1,025 crashes each day.
Of those, about 3,000 resulted in death and 245,000 resulted in injuries. Of those, more than 1,400 deaths and 14,000 injuries were either suspected or confirmed to have involved alcohol.
But it doesn't stop there. Increasingly, drugs – both illicit and prescription – have been on the rise. More than 630 deaths and nearly 3,000 injuries were suspected or confirmed to have involved a drug-impaired driver. Another 270 deaths and 320 injuries involved a combination of drugs and alcohol.
DUI vs. Drunk Driving
The terms "DUI" and "drunk driving" are often used interchangeably, but in fact they may differ slightly.
Florida Statute 316.193 prohibits "driving under the influence" of either alcohol and or drugs.
One can be considered "under the influence" of alcohol if:
The person has a blood-alcohol concentration of 0.08 or more grams of alcohol per 100 milliliters of blood;
The person has a breath-alcohol concentration of 0.08 or more grams of alcohol per 210 liters of breath;
The person's normal faculties are impaired by alcohol.
That last one is more subjective, meaning it isn't necessary to provide proof a person's BAC exceeded a certain amount if there is a showing alcohol impaired a person's ability to safely drive a vehicle. A police officer may do this by showing other tell-tale signs of impairment through field sobriety tests, including the horizontal gaze nystagmus test, the walk-and-turn test or the one-leg stand test.
Further, DUI also encompasses the use of other substances – not just alcohol. It can include any substance outlined in Florida Statute 877.111 or Chapter 893. In some cases, it can involve prescription medications (even if the driver has a prescription) or over-the-counter medication. The key is proving the chemical substance affected the person to the point his or her normal faculties are impaired.
Proving impairment via drugs is not always a simple matter because substances don't always impact people in the exact same way. Many law enforcement agencies have invested in drug recognition experts (DRE's) to aid specifically in this endeavor.
While a conviction on such charges following a crash may result in an order of restitution from the criminal court, our DUI accident lawyers in Miami know this is often not sufficient to fully compensate victims. That's we recommend pursuing remedy within the civil courts. In addition to the driver, other third parties could be liable too.
Negligence and DUI Accidents in Florida
The decision to drive under the influence of drugs or alcohol is one that breaches a motorist's duty of care to passengers, other drivers and vulnerable road users, such as pedestrians and bicyclists.
Florida Civil Jury Instruction Section 401.4 defines ordinary negligence as the failure to use reasonable care, which is the care a reasonably careful person would use in the same or similar circumstances.
Establishing negligence means showing:
Defendant owed plaintiff a duty of care; Duty of care was breached; Plaintiff suffered damages as a result.
In cases involving DUI car accidents, your attorney may be able to prove negligence per se – which is negligence due to breach of law. In other words, if it is determined the defendant violated the statute, then the individual was negligent. In that case, the only thing left to prove will be plaintiff's damages.
Other Liable Parties
Many are interested to learn an impaired driver isn't necessarily the only one who is responsible for a car accident.
Those may include:
Bar / restaurant that served alcohol to defendant. Per Florida Statute 768.125, Florida's dram shop law, this would only apply if defendant was underage or was known by establishment/ employees to be habitually addicted to alcohol.

Owner of the vehicle. Motor vehicles are considered dangerous instrumentalities in Florida, and therefore owners are liable when they are used negligently.

Employers. If the impaired driver was acting in the course and scope of employment, his/ her employer could be vicariously liable via the legal doctrine of respondeat superior.
These are just a few examples. The circumstances of your DUI car accident in Miami will dictate your attorney's course of action.
If you or someone you love has been injured in a car accident, please contact the Miami Car Accident Attorneys at Gerson & Schwartz, P.A., for a free consultation by calling (305) 371-6000 or using our online contact form.