Memorial Regional Accident Lawyer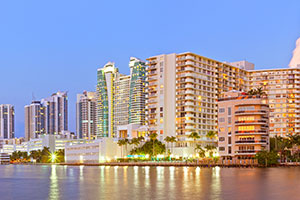 At Gerson & Schwartz P.A., a skilled and experienced Memorial Regional accident lawyer is here to help after you injured in a negligence-related incident. If you or a loved one suffered serious injuries in an accident in Broward County, you may be taken to Memorial Regional Hospital. The hospital opened in 1953 and is one of the largest hospitals in Florida. It has been recognized regionally and nationally for various services.
Once you or your relative receive treatment at Regional Memorial, you may be able to more closely consider the accident that caused these injuries. If another person's carelessness, recklessness, or intentional misconduct caused the accident and injuries, then we recommend contacting one of our Memorial Regional accident attorneys as soon as possible. Our Miami personal injury lawyers are highly experienced in working with patients at Memorial Regional and with coordinating with treatment providers there.
Additionally, though Memorial Regional Hospital is well regarded, it has not avoided all accusations of medical negligence. If you or your loved one suffer harm at the hospital, and you believe it is because a doctor did not treat you the way they should have or they made an avoidable mistake, contact our Miami medical malpractice lawyers to discuss your circumstances and possible legal options.
You can reach Gerson & Schwartz P.A. to speak with a bilingual attorney by calling (877) 475-2905 or submitting your information online. We offer free, no-risk consultations.
Memorial Regional Treats Injuries Sustained in all Types of Accidents
At Gerson & Schwartz P.A., our accident attorneys for Memorial Regional have worked with many clients who were treated at the hospital following:
Car Accidents in Miami
Bicycle Accidents in Miami
Pedestrian Accidents in Miami
Miami Motorcycle Crashes
Miami Truck Wrecks
Miami Train Accidents
Uber or Lyft Car Crashes in Miami
Other Motor Vehicle Accidents in Miami
Hotel or Motel Accidents in Miami
Casino Accidents in Miami
Negligent Security Accidents in Miami
Bar or Night Club Crimes in Miami
Premises Liability Accidents in Miami
Miami Slip and Fall Accidents
Dog Bites or Animal Attacks in Miami
Miami Construction Accidents
Workplace Accidents in Miami
Child Injuries in Miami
Cruise Ship Accidents in Miami
Miami Maritime and Boating Accidents
Memorial Regional Hospital
Memorial Regional Hospital is located at 3501 Johnson Street, Hollywood, Florida 33021. Memorial Regional provides emergency services, outpatient care, and inpatient care and remains open for 24 hours a day. It proudly encompasses the Memorial Cancer Institute, the Memorial Cardiac and Vascular Institute, and the Memorial Neuroscience Institute. Other medical services include bariatrics, stroke treatment, mental health care, women's and birthing services, and nutrition.
U.S. News ranks Memorial Regional nationally for pediatric orthopedics. It also ranks the hospital as high performing for aortic valve surgery, chronic obstructive pulmonary disease (COPD), heart bypass surgery, heart failure, and lung cancer surgery. Overall, U.S. News places Memorial Regional as No. 3 in the Miami-Fort Lauderdale metro areas and No. 13 in Southern Florida.
If you were treated at Memorial Regional for injuries sustained in a negligence-related accident, do not hesitate to call our experienced accident lawyers for Memorial Regional. Our team at Gerson & Schwartz P.A. is here to help you find out what went wrong, who is responsible, and how you can best pursue fair compensation for your injuries. We have decades of collective experience in handling accident claims, which gives us in-depth knowledge and unique insights into how to handle your claim.
Medical Malpractice at Memorial Regional Hospital
Medical negligence can happen anywhere at any time. Physicians may become careless in their treatment of patients or rushing around can lead to dangerous mistakes. Whatever the underlying reasons for the negligent medical care, you may have the right to pursue compensation if the malpractice caused you condition to worsen or caused you to suffer from a new injury.
At Gerson & Schwartz P.A., we can represent you after:
Emergency Room Errors at Memorial Regional
Diagnostic Errors at Memorial Regional
Physician Errors at Memorial Regional
Surgical Errors at Memorial Regional
Anesthesia Errors at Memorial Regional
Medication or Prescription Errors at Memorial Regional
Radiology Malpractice at Memorial Regional
Memorial Regional Birth Injuries
Hospital-Acquired Infections at Memorial Regional
Let Our Memorial Regional Accident Lawyers Help You
Following an accident that was another person's fault, you may be treated at Memorial Regional Hospital. You first and top priority should be to get better. Work with the physicians and other staff at Memorial Regional to receive the treatment you need and get onto the path toward recovery. Then, when you and your family are able to focus on something more than your care, call us at Gerson & Schwartz P.A. to discuss your rights. Our experienced accident attorneys for Memorial Regional will thoroughly investigate the accident, gather and analyze evidence, determine who is at fault, and explain your options for pursuing compensation. We may believe you have a strong chance of receiving compensation through a personal injury lawsuit and/or an insurance claim.
To learn more about your legal options after being treated at Memorial Regional Hospital for injuries sustained in an accident, contact Gerson & Schwartz P.A. through our online form or by calling (305) 371-6000.