Hollywood Personal Injury Lawyer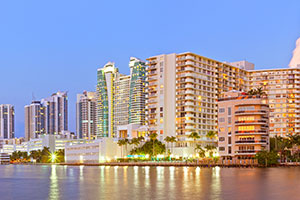 We are car accident attorneys servicing clients seriously injured in Hollywood, Florida. We all know that Florida is a popular destination for retirees to move and for spring breakers and families to visit to see the sites and enjoy the beaches. For some who live in or visit Florida, however, the Sunshine State is also a place where the roads can be dangerous and where car accidents happen. In 2011 alone, for example, the Traffic Crash Statistics reveal that there were 227,998 traffic collisions over a single year that resulted in 2,400 deaths and 181,654 injuries.
Car accidents not only happen in the city of Hollywood, Florida but they happen in cities both large and small across the nation. However, big cities such as Hollywood tend to be the site of many car crashes. Hollywood, FL is the twelfth largest city in the state of Florida. Hollywood is the home of Atlantic Ocean Beach and is bordered by Fort Lauderdale, Davie, Copper City, Pembroke Pines, Miramar, West Park, Pembroke Park and Hallandale Beach. If you or a loved one is in Hollywood Florida or surrounding areas and are involved in one of the city's many car accidents, an experienced Hollywood car accident lawyer at Gerson & Schwartz, P.A. can help. Our personal injury law firm represents injured drivers and pedestrians in accident due to:
The Dangers of Car Accidents in Hollywood Florida
Car accidents can happen for many different reasons and can cause serious or catastrophic injury or even wrongful death. Auto accidents can injure drivers, motorcycle riders, bicycle riders and pedestrians. In 2011, for example, there were 7,039 pedestrian crashes that caused 497 pedestrian deaths. There were also 413 motorcycle riders and 38 motorcycle passengers killed in a total of 8,621 motorcycle crashes in Florida statewide.
High traffic in cities, coupled with bad driver behavior and inexperienced drivers, can significantly increase the risk of a car crash happening. In Hollywood there were a total of 2,624 car wrecks in 2011. In Broward County where Hollywood is located, there were 23,210 car accidents that caused 160 deaths, including 30 pedestrian fatalities.
Negligent driver behavior that leads to car accidents takes many different forms, but one of the most common reasons for motor-vehicle collisions is drivers who speed, fail to yield the right of way, send text messaging or, that have consumed drugs or alcohol beverages before getting behind the wheel. In fact, 102 of Hollywood's 2,624 accidents are suspected of having involved alcohol in 2011. In the county of Broward, 49 of the 160 car accident deaths occurred in a crash related to alcohol use.
Studies show that text messaging is even more dangerous than getting behind the wheel while intoxicated. When a driver drinks and operates his vehicle, or when a driver engages in other high-risk behavior like tailgating, speeding, failing to yield the right of way, or disobeying traffic signals, that motorist should be held legally responsible for the accidents that he causes. Florida laws allow injured victims to take legal action to recover compensation and even recover punitive damages for serious injuries resulting from alcohol related car crashes, as well as allowing those who have lost loved ones to file wrongful death claims.
To make a claim for compensation after a car accident, it is a smart choice to have a local attorney representing you and explaining your rights. The Hollywood car accident attorneys at Gerson & Schwartz, P.A. can help accident victims or their loved ones in Broward County and surrounding areas to pursue a claim and recover monetary compensation from responsible persons, businesses, and other legally responsible parties. When hired to represent you our legal team consisting of Fl. Board certified trial lawyers will investigate the case facts, send investigators to interview witnesses and take all action necessary to prove your case in a court of law. If you were seriously injured in an accident in Hollywood, Fl or another area of Broward County then don't wait and contact our South Florida law offices for help. Call us at (954) 845-0535, or toll free at (877) 475-2905. Or read more about us to find out how Gerson & Schwartz, PA can help you.