Miami Gardens Negligent Security Lawyers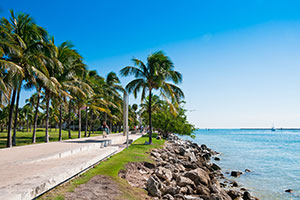 If you were the victim of a crime and injured while at an adult night club, bar, restaurant, or other business, call a Miami Gardens negligent security lawyer at Gerson & Schwartz P.A. as soon as possible. We are a full service injury law firm. We have been helping accident and injury victims for more than 50 years, which gives us the knowledge, experience, and resources you need to aggressively pursue a premises liability claim.
When you are the victim of a crime, you may expect the perpetrator to be charged with a crime. You may expect them to be prosecuted to the fullest extent of the law, found guilty, and punished. Even if this does happen, it will not benefit you other than providing a sense of justice. You will still have your medical bills, lost wages, and the pain and suffering you experienced.
The best way to make up for your physical, psychological, and financial injuries after being the victim of a crime is to talk with a Miami Gardens negligent security attorney about pursuing a civil premises liability claim. You can reach us at Gerson & Schwartz P.A. at (877) 475-2905, through our online form, or by emailing info@gslawusa.com.
We Represent Negligent Security Victims in Miami Gardens
At Gerson & Schwartz P.A., we have represented residents of Miami Gardens and those victimized in Miami Gardens for nearly five decades. Miami Gardens was incorporated in 2003, making it Miami-Dade County's 33rd city. As of 2018, it had a population of over 113,000, many of which are African American and Latino.
Miami Gardens is surrounded by and crisscrossed by many major roadways. Its boundaries include 151st Street, Countyline Road, North Miami Avenue, North East 2nd Avenue, North West 47th Avenue, and North West 57th Avenue. It is accessible from I-95, the Florida Turnpike, and the Palmetto Expressway.
In Miami Gardens are numerous night clubs, bars, restaurants, and entertainment venues where crimes may be committed. Venues in which patrons can imbibe alcohol are often targeted by criminals. People who are out having fun and who are not being vigilant regarding their surroundings are more likely to be the victim of theft, robbery, carjacking, physical assault, and sexual assault. Owners of these establishments are aware of this risk and need to put security in place to prevent their patrons from being harmed.
Other Miami Gardens' properties that should have appropriate security are apartment complexes, high rises, motels, and hotels. Property owners are responsible for keeping their tenants and guests reasonably safe, which includes taking steps to prevent robbery, burglary, sexual assaults, drug crimes, and shootings.
If you were injured on another person's property in Miami Gardens and you believe it was because of a lack of security, contact our Miami Gardens negligent security lawyers at once.
Premises Liability & Security Requirements Under Florida Law
Each state has what is called premises liability law. This area of law dictates when property owners owe others a duty of care, and depending on the status of the other person, the type of duty of care.
In Florida, a property owner owes you a duty of care if you are a business guest, customer, or client (invitee) or a personal guest (licensee).
Invitees are owed the highest duty of care. Property owners must keep their properties safe for you as a customer or client. Owners must routinely inspect their properties, make repairs, or warn you about hazards. If you are injured on their property, they may be held responsible for injuries caused by hazards they knew or should have known about.
Licensees are owed a slightly lower duty of care. The property should still be reasonably safe, but the owner may not be held responsible for injuries suffered from hazards the owner did not actually know about.
If you are a trespasser, as in someone who did not have permission to be on the property, then a property owner does not owe you a duty of care. The owner only has to refrain from intentionally or recklessly harming you.
A property owner's duty of care encompasses security measures to prevent crimes that commonly occur in the area. If the property owner is aware that muggings are common around their apartment buildings, then they should install security measures to prevent their tenants and guests from being assaulted and robbed on the owner's property.
Bar, club, and restaurant owners should be aware of the risk to patrons in their facilities and take steps to reduce those risks.
Common places in Miami Gardens where negligence security may occur include:
Parking Lots in Miami Gardens
Convenience Stores
Apartment Complexes
Public Housing
Hotels and Motels
Bars and Night clubs
Adult Night Clubs/ Strip Clubs
Shootings
Stabbings
Battery
Homicide
Motel s
Strip Clubs
Other Venues and Business Operators
Negligent or inadequate security measures in Miami Gardens include a failure to provide:
Fencing
Locked gates
Locked doors with key, card, or code entry
Adequate Lighting
Video surveillance
Inadequate Security personnel, such as guards or bouncers
Trained security managers
A Security Plan
Were You Injured on Someone Else's Property in Miami Gardens or Opa Locka?
If you were crime victim in Opa Locka or were injured during a crime committed on another person or business's property, do not hesitate to call a negligent security attorney in Miami Gardens at Gerson & Schwartz P.A. Our lawyers will review your case and identify the property owner's financial responsibility and if they violated their duty of care toward you.
If it appears the owner failed to implement and maintain appropriate security measures, we will represent you in a premises liability claim against the owner or operator of the premises. Our lawyers to ensure you receive full and fair compensation for your injuries.
To learn more about how we can help, contact Miami Gardens negligent security attorney at Gerson & Schwartz P.A. at (305) 371-7000. We help crime victims in Miami Gardens, Opa Lock and other high crime areas in the North Miami Beach. So contact us today for (877) 475-2905.