Burn Injuries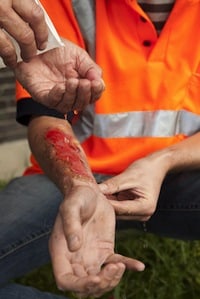 There is a misconception that burns are rare events—only striking in the few cases where a home or building goes up in flames. But that is not the case. Burn injuries are quite common and residents in Miami and throughout Florida face these injuries every day.
The causes of burn injuries can come from a variety of sources, including chemical burns, thermal burns, electrical burns and radiation burns. Residential fires alone cause, on average, more than 13,000 injuries and 2,500 deaths each year, according to the U.S. Fire Administration. Of those more than 360,000 home fires, cooking stands as the most common cause. The American Burn Association reports that, in 2011, approximately 450,000 people sought medical treatment for burn injuries, with 10 percent of those victims requiring hospitalization.
Severe Burns Often Lead to Permanent Injury & Disfigurement
Burn harm is often divided into categories, or degrees, of severity:
A first degree burn is the least severe and often involves only redness and irritation.
Second degree burns damage both the top and underlying layers of skin, and can cause blistering and scarring.
Third and fourth degree burns destroy the skin at all layers. These burns require excision of the damaged skin, which is typically replaced with a skin graft.
Severe burn injuries (second degree or worse burns over a significant portion of the victim's body) may have collateral negative impacts, such as circulatory problems, organ damages and respiratory difficulty. Many severe burn injuries damage the victim's nerves, causing excruciating and recurring pain. On top of the physical harm that burn injuries inflict, there is a psychological toll as the victim's physical appearance may be forever changed. In many cases, people who suffer severe burn injuries, even after multiple skin graft surgical procedures, suffer permanent disfigurement as a direct result of their burns.
Burn survivors often require extensive medical treatment at the time of their initial injury. They also frequently require considerable ongoing medical treatment, and sometimes even follow-up surgical procedures, to care for the injuries they suffered. As a result, many burn survivors rack up tremendous medical bills.
Causes of Burn Injuries
Sometimes an injury is pure chance, without anything which could have prevented it. However, there are also numerous situations where the negligence of others causes the injury.
In some cases faulty wiring may cause a house fire or the absence of a smoke alarm may cause injuries from a house fire to worsen undetected. A defective tanning bed could cause severe sunburn that leads to permanent injury. Other products that may cause burn injuries include malfunctioning or faulty car seat heaters, defective space heaters, vehicles with faulty exhaust systems, or kitchen appliances (especially cookers that use hot oil.)
Burn survivors who are entitled to recover from others for the negligence that caused their injuries may receive compensation on a variety of grounds. The injured person may receive compensation for their medical expenses (both past and future), past and future lost earnings, as well as both the physical and emotional tolls the injuries have taken on him or her.
Burn Injury Lawyers in Miami
With decades of experience representing the rights of burn survivors, the attorneys at Gerson & Schwartz, P.A. have both the experience and skill to handle the unique challenges that go with representing burn victims. We ensure that you receive all of the compensation under the law to which you were entitled. Consider contacting us today to see how we can help.