West Palm Beach Brightline Train Accident Attorney
If you or a loved one is injured in a Brightline train accident in West Palm Beach, it may mean that you need a West Palm Beach injury lawyer. If the accident wasn't entirely your fault, it is possible that you are eligible for compensation for your injury-related damages such as:
Medical bills
Medical devices and rehabilitation bills
Medication bills
Physical and emotional pain and suffering
Scarring and/or disfigurement
Lost wages
Loss of financial support
Loss of parental guidance depending on the facts of your accident
If you want to pursue financial recovery for all these losses and expenses, make sure you gather all the necessary documents to prove that you sustained those damages. Be diligent in collecting and gathering your evidence the burden of proof rests with you the claimant.
If you don't know how to do that or you want to make sure that your case is professionally handled, then you could entrust your case to a West Palm Beach Brightline train accident attorney. Here at the Gerson & Schwartz Law Firm, we can help you with that. Our 40 plus years of experience is available for individuals who are injured on Brightline Trains in Florida. You can reach us at (305) 371-6000. Our consultations are free. We don't ask for fees unless we financially recover for you.
West Palm Beach Brightline Train Accidents and Liability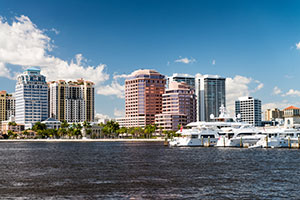 Brightline Train may be liable to pay you damages for any injury on their trains sustained due to the fault of the company or its employees. They are legally required to abide by and follow strict safety rules established and enforced by the Department of Transportation and Federal Railroad Administration. These rules in addition to Florida premises liability laws set an obligation for Brightline to take all the reasonable measures for preventing foreseeable accidents on their trains. Should they fail to do so, accidents may happen, and innocent people may be injured. If they are responsible, Brightline should compensate the injured person for all the damages and personal injuries.
The most likely accidents to bring you to our office asking for legal advice on Brightline accidents include, but are not limited to:
Brightline Train mechanical and engineering failures leading to injuries and wrongful deaths
Brightline Train trip and fall accidents
Slip and fall accidents on a Brightline Train
Food poisoning and foreign object found in food served on a Brightline Train
Brightline Train collisions due to broken crossing gates
Brightline Train hitting people and vehicles due to inadequate or missing warning signs at crossings
Derailment of a Brightline Train resulting in serious injury or death
Unprotected high voltage cables at Brightline Train stations
Brightline Train stepping on and off railcars accidents
Brightline negligent security resulting in severe injuries or wrongful death
West Palm Beach Brightline Trains Accident Lawyers
We handle cases on a contingency basis, which means that you'll pay nothing until we win for you. If we don't, you don't pay us. So, why handle your case by yourself when there are no upfront costs? Wise people hire a lawyer when faced with cases like yours.
They know that it looks as if it was simple to get compensated by a large company like Brightline, but it is not as simple once you try to go head-to-head with them. They know how to fight, and rest assured, they have their lawyers to defend the bottom line of Brightline. So, call our West Palm Beach Brightline accident lawyers at the personal injury law firm of Gerson & Schwartz. We are ready to help you and your family. To get started just call us at (305) 371-6000 for your free consultation.