Islamorada Car Accident Attorney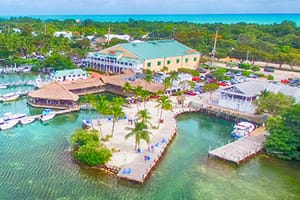 Were you or a loved one injured in a car accident in Islamorada? If so, now is the time to contact an Islamorada car accident lawyer from Gerson & Schwartz P.A. We understand that calling a lawyer can be intimidating. However, we can assure you, having an experienced and knowledgeable attorney by your side improves your chance of receiving financial compensation. It also improves the likelihood that you receive the maximum amount of compensation possible instead of a lowball settlement offer. We will guide you through the insurance claim and legal processes and fight hard for you to receive the compensation you deserve. To learn more about how we can help you after a car crash, contact our car accident lawyers online or call (877) 475-2905.
Car Accidents in Islamorada, FL
Islamorada is an incorporated village of Monroe County and is located across five islands in the Florida Keys. It is on Tea Table Key, Lower Matecumbe Key, Upper Matecumbe Key, Windley Key, and Plantation Key. The village is made up of about 6.5 square miles and has a population of more than 6,400 people. To get to Islamorada, you can take the Overseas Highway. The islands are about 1.5 hours drive from Miami. If you continue on for about 2 more hours, you will reach Key West.
While life and visits to Islamorada can seem ideal, the islands have many of the same concerns as the mainland. With a large of influx of tourists every year, traffic can become congested and dangerous. The area is no stranger to car accidents, which arise due to sun glare, distracted driving, and drunk driving incidents. If you or a relative were involved in a car accident while living or visiting these islands, do not hesitate to call our car accident lawyers of Islamorada.
Common Causes of Car Accidents in Islamorada
At Gerson & Schwartz P.A., we handle all types of car accidents, including rear-end collisions, head-on crashes, side impact and T-bone crashes, hit and runs, rollover, and turn accidents. We also handle all collisions no matter their underlying cause. Some of the most common reasons for Islamorada car crashes include:
If you or a spouse, parent, or child were injured in any type of crash on Tea Table Key, Lower Matecumbe Key, Upper Matecumbe Key, Windley Key, or Plantation Key, do not hesitate to call Gerson & Schwartz P.A. to speak with one of our Islamorada car accident attorneys.
Common Islamorada Car Accident Injuries
Our car accident lawyers have handled cases involving all types of minor, moderate, serious, and catastrophic injuries. No matter what you or your loved one are going through, call us to talk about the compensation you may be able to recover.
Some of the most common car accident injuries we handle include:
Bone fractures
Lacerations
Joint dislocations
Soft tissue injuries
Neck and shoulder injuries
Whiplash
Back injuries
Spinal cord injuries (SCI)
Paralysis
Chest and abdomen injuries
Internal injuries
Traumatic brain injuries (TBI)
Burns
Post-traumatic stress disorder (PTSD)
Pursue Car Accident Compensation After an Islamorada Crash
After being injured in a car accident, you may be entitled to compensation. First, you have to prove the other driver was at fault. We will conduct a thorough investigation into the crash and gather evidence. We will seek to prove to the insurance company that the other driver was careless or reckless behind the wheel. Once we establish fault, we will demand full and fair compensation.
You may be entitled to:
Past, current, and future medical expenses
Past, current, and future lost income
Physical pain and suffering
Emotional distress
Loss of earning capacity
Scarring and disfigurement
Disability
Loss of normal life
The amount of compensation you may receive depends on many factors, including the type and extent of your injuries. You are likely to receive more compensation for a more serious injury, such as a severe TBI, than a moderate injury, like whiplash. Other factors also will influence your compensation if you choose to take your claim to trial. When you go through a jury trial, it is up to the jury to decide if you should receive compensation, and if so, how much. The region where your claim is brought can impact the final amount—some areas tend to allow for greater or smaller recoveries. Also, how sympathetic the jury feels toward you can matter a great deal.
To learn more about your potential damages and the factors that influence your car accident compensation, contact our car accident attorneys in Islamorada.
Call Gerson & Schwartz P.A. For Help Today
If you are suffering from car accident injuries, you do not have to handle this situation on your own. You do not have to deal with the medical bills and insurance adjusters yourself. We can do that work for you. Let us help you receive medical care, put your medical bills on hold, and fight for your compensation.
Contact Gerson & Schwartz P.A. online or call (305) 371-6000.