Opa-Locka Personal Injury Lawyer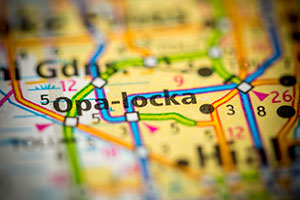 Our car accident attorneys represent clients seriously injured in Opa-Locka and Miami Dade. Throughout the state of Florida, there are many cities and counties were residents live and where tourists come to visit. Both residents and visitors are expected to drive safely on the streets of Florida and to avoid causing a danger to themselves or others behind the wheel.
Unfortunately, drivers sometimes do dangerous things and take unreasonable risks, often with fatal results. In the city of Opa Locka, for example, there were more than 50 serious accidents in 2011 alone, according to the Florida Traffic Crash Facts. When accidents due to negligence of third parties our Opa Locka car accident lawyers are ready to help.
Opa Locka is a small city that is located in the northeastern part of Miami-Dade County. With an area of just 4.5 square miles, Opa Locka and other nearby suburbs, including Coral Gables and Miami Springs, are described as planned communities. Opa Locka has a general aviation airport, three parks and two large lakes, and is a mix of residential and commercial areas home to 15,367 people as of the 2007 mid-decade census. A car accident in this area that affects a resident or a visitor can be devastating and an Opa Locka accident lawyer at Gerson & Schwartz, P.A. can help those who have been harmed to take action and protect their rights.
Our accident attorneys in Opa Locka, Florida represent clients injured in:
Auto and Car Accident Statistics in Opa Locka
Despite road safety laws in Florida that are designed to prevent traffic collisions, accidents happen every day. In fact, in 2011, there were 227,998 traffic crashes statewide that caused 2,400 fatalities and 181,654 injuries. Motorists, motorcycle riders and pedestrians were all affected by these crashes. A total of 497 pedestrians lost their lives in 7,039 pedestrian accidents. Another 413 motorcyclists were killed in 8,621 accidents.
Car accidents, as well as pedestrian and motorcycle wrecks, can happen anywhere, including in Miami-Dade County where Opa Locka is located. In fact, 248 people were killed in 42,171 car accidents that occurred in Miami-Dade County in 2011. Within Miami-Dade County, Opa Locka is bordered by unincorporated Miami-Dade County, Miami Gardens, Golden Glades, Northern Miami and Hialeah. The city is the location of a total of 55 serious traffic collisions in Miami-Dade County reported over the course of the year.
Our Opa Locka auto accident attorneys know that many of the motor-vehicle collisions that happened occurred as a direct result of driver negligence or as a result of drivers violating Florida state laws. For example, Florida bans driving while under the influence of drugs and alcohol, yet there was one fatal crash related to alcohol in Opa Locka in 2011 and there were a total of 58 alcohol-related deaths during that same time in Miami-Dade County.
If a driver is drunk and/or if a motorist violates any required safety regulations, that motorist can be considered negligent in the eyes of the law. Injured car accident victims or their loved ones will not be required to specifically prove negligence in these types of car accident cases in order to recover monetary compensation but they do need to show that the other driver's actions were to blame for the crash.
For other auto accident claims where drivers are seriously hurt or victims are killed but no safety rules were broken, those wishing to take legal action will need to prove that the defendant driver was unreasonably careless in some way that led to the accident.
If you or a loved one have sustained serious bodily injuries in an Opa Locka traffic accident and you need help understanding your rights. The Opa Locka personal injury lawyers at Gerson & Schwartz, P.A. are here to assist you. Give us a call or contact us online today for a free and confidential consultation to discuss your rights.
Click here to read more about the other personal injury practice areas that the law offices Gerson & Schwartz has direct experience in. Call us today (305) 371-6000. Se Habla Español.