The Hammocks Personal Injury Lawyers
Dedicated Attorneys in The Hammocks, Florida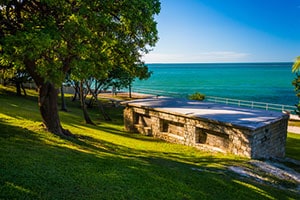 The Hammocks, nestled between Big Cyprus National Preserve and Biscayne Bay, is home to many residents of Miami Dade County. People here enjoy their location, with easy access to the beach, protected wetlands, and a variety of dining options in Miami. For such a nice area, accidents happen nearly every day in The Hammocks. Were you injured while driving down SW 96th or SW 112th Street when another vehicle slammed into you? Or maybe you fell while walking down the street after stepping in a pothole or tripping over uneven pavement. However you were injured, you might be entitled to financial compensation if you can prove someone else was responsible for your injuries.
At Gerson & Schwartz, our personal injury lawyers serve clients in the Hammocks and have been in business for over four decades. We work closely with our clients to protect their rights in the event of an unexpected injury. If you have been injured and believe that some one else is responsible, please call us today at (877) 475-2905 or (305) 371-6000. You can also contact us online. Your initial consultation is free. We will help review the details of your case and answer any questions you might have. Our lawyers have represented injury victims in the capacity as
The Hammocks wrongful death law firm
The Hammocks trip and fall accident personal injury law firm
The Hammocks medical malpractice law firm
Slip and fall accident personal injury law firm in The Hammocks
The Hammocks personal injury law firm for accidents and injuries caused by negligent security
The Hammocks personal injury law firm for injuries caused by product manufacturing defects
Brain injury law firm in The Hammocks
The Hammocks motel accident personal injury law firm
Serious injury law firm in The Hammocks
Hotel and resort accident personal injury law firm in The Hammocks
Daycare facility injury law firm in The Hammocks
Construction site accident personal injury law firm in The Hammocks
Nightclub assault personal injury law firm in The Hammocks
Devastating Injuries
Personal injury law covers bodily injuries you suffer because of someone's negligence or intentional misconduct. Our clients have suffered every conceivable type of bodily injury, including:
Broken bones
Burns
Head injuries
Spinal cord injuries
Compressed nerves
Soft-tissue injuries, such as sprains or strains
Internal organ damage
Internal bleeding
When you've been injured, you should immediately seek medical treatment from West Kendall Baptist or another nearby hospital. Our clients are more likely to improve if they receive prompt medical attention. Otherwise, their condition can deteriorate rapidly. For example, a fractured vertebra can cause incredible pain but might result in partial paralysis if not treated promptly.
Avoid Negotiating With Insurers on Your Own
If a driver struck you because they were negligent or reckless, you could sue them for compensation. Many insurers try to quickly settle claims before you are fully aware of the extent of your injuries or of the amount of money it will take to treat those injuries. Insurers are anxious to finalize settlements so that they can forget about your case. If an insurer contacts you, remember the following:
Do not admit responsibility for the crash. Doing so will only serve to reduce the amount of financial compensation you can receive. Instead, say you need to talk to an attorney before giving a claims adjuster your version of events.
Avoid giving too much detail about your injuries. You probably do not yet know the extent of your injuries, so there is no reason to minimize them when talking to an insurance agent.
Never sign anything. Legal documents are complicated, and insurance agents have no desire to explain your rights and obligations to you. If you are given a piece of paper to sign, put it to the side and tell the agent that you need to talk to a lawyer.
Put the phone down and contact a lawyer. Only a lawyer has your best interests at the forefront of their mind. Insurance agents are looking out for their bottom line, not your well-being.
Gerson & Schwartz has the legal experience to understand how to make a compelling claim for financial compensation. Trust us to act as your go-between with the claims adjuster and to negotiate on your behalf.
Injured in The Hammocks? Call a Personal Injury Lawyer at Gerson & Schwartz PA Today
At Gerson & Schwartz, we have been fighting for victims' rights for over 50 years. Our team of The Hammocks personal injury attorneys have received numerous million-dollar verdicts and settlements on behalf of injured clients. We attribute our success to our experience and attention to detail, which we hope to use on your behalf. Contact us today for a free consultation at (877) 475-2905 or (305) 371-6000.