Fort Lauderdale Personal Injury Lawyer
Many of us realize that getting behind the wheel of a car each morning is one of the most dangerous things we will do each day. But we often forget that the same is true whenever we leave the house--even if we are using our own two feet. Pedestrian accidents in Florida, especially in Broward County, such as Fort Lauderdale are incredibly common. Considering our relatively warm weather, many residents and tourists are outdoors and moving about town on a regular basis. For far too many pedestrians their trip outside ends up in an emergency room or worse.
It is critical that motorists and pedestrians in Fort Lauderdale, Hollywood, Broward County and other parts of Southern Florida should remember safe practices to avoid pedestrian accidents and understand their legal rights if they are ever involved in one.
Florida: The Most Dangerous State for Pedestrian Accidents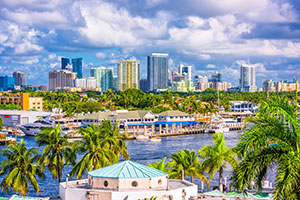 It is hard to exaggerate the seriousness of pedestrian accidents. According to one recent Transportation of America study, Florida leads the country in auto accidents involving a pedestrian fatality. Literally thousands of Floridians have been killed in recent years after being hit by cars due to negligent drivers on or near the road.
The Transportation for America study ranked metro areas across the country in dangerousness based on total number of pedestrian fatalities and population size. Sadly, the top 4 most dangerous metro areas were all in Florida: Orlando-Kissimmee; Tampa-St. Petersburg; Jacksonville; and Miami-Ft Lauderdale. In area of Fort Lauderdale, Florida area alone, there were over 1,550 fatal pedestrian accidents over the course of the study.
Unique Florida Risks
Our Fort Lauderdale, Florida accident attorneys also handle cases involving
It is hard to quantify exactly why Fort Lauderdale pedestrians and in others in South Florida have so many pedestrian accidents. As mentioned earlier, part of the answer likely lies with our climate and outdoor activities. More residents are outside for longer periods of time throughout the year than elsewhere. With more pedestrians come risk of more accidents. Similarly, thanks to our continued population growth and the fact that we are a leading tourist spot, more and more walkers are making their way in and around the road.
Not only are all Floridians more likely than others to face these accidents, but certain community are more prone to pedestrian injuries. Specifically, elderly residents face particularly high risks. That is probably due to their slower walking times and vulnerabilities which make it more difficult to avoid inattentive or negligent drivers.
Similarly, those who live in neighborhoods with fewer sidewalks are at a higher risk. Older neighborhoods and those will less development often have insufficient walking areas for travelers, increasing the risk that they will be required to walk closer to automobile traffic.
Fort Lauderdale Pedestrian Accident Attorneys
There is no way to turn back the clock and bring a loved one back or prevent a serious injury. However, that does not mean that these accidents should go without accountability. The civil law provides an avenue by which those affected--an injured party or their survivors--can demand redress. In fact, it is only when those hurt come forward that pressure is applied to enact changes that make the roadways safer for everyone. For help with these legal details in the Fort Lauderdale, Hollywood, Plantation, area or other parts of Broward County, please contact the Fort Lauderdale accident lawyers at Gerson & Schwartz today. Our Fort Lauderdale accident attorneys are available at (954) 845-0535 or toll free (877) 475-2905